"Singing in the choir, for me, is part of a new life. It's like this is my heart and it's pumping my energy to the right places. This is what motivates me."  
– Alessandro, ex-homeless member of the Uma só Voz Choirs 
TO DONATE AND SUPPORT THE CHOIRS, CLICK HERE
Since May 2016, the Uma só Voz Choirs have existed in the city of Rio de Janeiro. Formed by people with experience of homelessness in the city, the choir meets up every week to rehearse, sing, share stories and seek support and comfort through art. Currently, over 70 people are participating in the project, divided into six choirs around town, rehearsing in shelters, day centres, NGO's and public spaces.
From May 2016 to May 2017, over 400 people with experience of homelessness were part of the choir. We've discovered the immeasurable value that art has in recovering the dignity and self-esteem of people that experience daily invisibility in the streets.  It is in those meetings that the members find a place to express themselves, meet new people in the same situation, regain hope and start to look ahead again. Apart from rehearsals, the opportunity to perform live for an audience in some of the most iconic venues in the city has a great impact on their confidence and sense of acknowledgement.
The initiative has a legacy funding, coming that will keep us running until the beginning of 2018. After this, the choirs will finally come to an end due to lack of funding and that's why we are launching this crowdfunding campaign. We want to keep dreaming and singing! We're proposing that people touched by our story donate a small sum to the cause and become a "Friend of the Uma só Voz Choirs".  "We're absolutely sure that this work will keep supporting so many people living in the streets. We simply cannot stop", stresses Rico Branco, Uma só Voz Choir leader.
More than just singing, the choirs became a support network, reinforcing the importance of art as a tool for social change. Many of the members see the choirs as a door to new achievements: around 20% of those who joined the choirs found jobs and left the streets, and around 30% say they find it easier to avoid alcohol and drugs while in the choirs.
Why arts and homelessness?
Worldwide, the common approach when it comes to people with experience of homelessness is to provide basic needs, such as food and shelter. This helps with the effects, but not with the causes behind homelessness. People who have experienced life in the streets have multiple needs, that can't only be supported with basic provisions. A new approach to tackling homelessness is much needed, if we as a society really want to support people placed in extremely vulnerable situations.
An Arts and Homelessness Movement possesses the potential to subvert common practices, and offer a different approach to investing in people, with confidence, dignity and self-esteem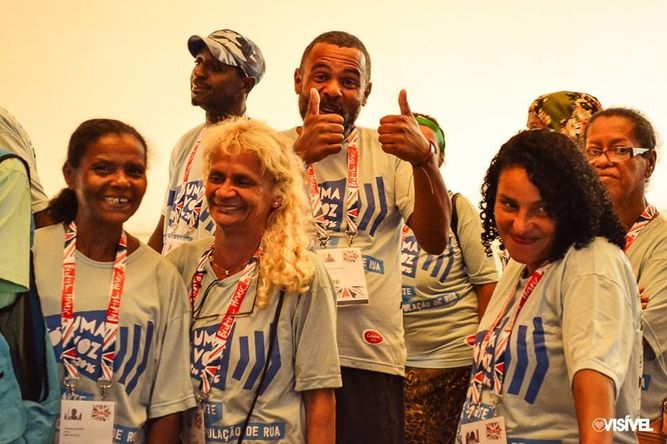 A recent survey conducted by Streetwise Opera (2015-16) revealed that, of the 725  homeless people engaged in UK arts projects interviewed, 97% felt their mental health got better after joining arts programmes, 84% improved or maintained their optimism towards life and 80% felt inspired to engage in other activities and plans. These projects show how valuable and fundamental the arts are as a propeller of change in the self-esteem, self-image and community engagement of homeless people. It's a progressive means of engaging this population in social mechanisms for recovery.
The work developed so far shows that an Arts & Homelessness sector can influence public policies, making the voices of homeless people heard and acknowledged as part of society.
A word from the choir members…
"I feel accomplished, because when you live in the streets, you feel worthless, nobody pays attention to us. But then when we sing, people start talking to you: "oh, I saw you singing…" and I think my little star is shining. I feel like I'm recognised as an artist." – Valeria, member of the choir and almost 10 years living in the streets.
"I've been singing for almost a year in this choir. I like all of the songs. I had never sung before, and now I'm here. It's exciting to perform because this is something I never thought I would do in my life. Getting applauded from all sides is very exciting. Because it's like we've fallen down when we're on the street. Our self-esteem is low."- Elisabeth Miguel, member of the choir and 12 months living in the streets
"I"m so happy, I've changed after this (the choir). This is a new opportunity for us, for people who gave up, who thought they could never achieved anything anymore in life. We have the choir now to give us hope". – Ezio Gabriel, member of the choir
A little bit of our history
The Uma só Voz Choirs were originally incorporated within the international With One Voice project, developed by UK NGO Streetwise Opera, for the London 2012 Olympics. That year, for the first time in history, people with experience of homelessness were included in an official Olympic programme. Arts & Homelessness NGOs performed Naquele ano, pela primeira vez na história, a população de rua da cidade foi incluída na programação oficial do evento, com apresentações de ONGs que trabalham com arte e população de rua na tradicionalíssima Royal Opera House.
Following the Olympic thread, the initiative spent three years researching and promoting exchange programmes to support the sector in cities such as Rio de Janeiro and São Paulo. This resulted in the creation of the Uma só Voz Choirs and the development of a network that would work together to produce a special programme for Rio's Olympic Programme.
The collective effort resulted in the With One Voice Week – Arts & Homelessness Occupation, which was part of the official Rio2016 Olympic Programme and hosted around 40 events, such as talks, pop up performances, workshops and seminars in amazing venues: State Public Library, Museum of Tomorrow, Arcos da Lapa, Museum of Modern Art of Rio, Live Stage Madureira, outside area of Rio's Opera House, Catedral São Sebastião na Lapa, at the top of Christ the Redeemer, among others. The initiative was supported by British Council, Calouste Gulbenkian Foundation UK and Macquarie Group Foundation, and if we need the choirs to keep going, we need your support!
Watch the video about our Arts & Homeless occupation during the Rio2016 Olympics
Who is behind the Choirs in Brazil?
The project is produced by a network of partners who collectively believe in the importance of the arts for social change. In Brazil, the initiative is managed by NGO People's Palace Projects alongside the With One Voice International Movement and Streetwise Opera. Many amazing partners help us keep going: we count on the support of the Secretary of Social Development and Human Rights of Rio de Janeiro, and also the Homeless People Movement in Brazil, Pastoral da Rua and the Public Defensorship of Rio de Janeiro, to name a few.
Where does your money go?
The With One Voice choirs have a legacy funding to keep going, rehearsing and performing until January 2018. After this, we are counting on this campaign to keep the project alive. Our monthly expenditure costs around R$ 6606 Brazilian Reais ($2087.76). This money goes to paying our choir leader, transport and food for choir members during performances and some rehearsals, admin costs and marketing material, such as the t-shirts used in performances. Your support is extremely important and will help to keep our dream going, allowing more people to join the choirs and giving hope and perspective to people usually invisible to society's eyes. We believe we're better off singing! <3
Be our friend and support the With One Voice Choirs in Brazil to keep singing, ! Donate today!
Budget
staff fee 
R$2500
transport for rehearsal and performances
R$1245
Food
R$1620
Admin and creation of Corais Uma só Voz NGO
R$720
Office supply
R$190
New t-shirts (monthly expenditure- 12 months)

Crowdfunding host fee (13% divided by 12 months )

R$331

R$861.58

Total monthly expenditure (Without catarse fee)

Total (including crowdfunding fee )

R$6606

R$ 7467.58